Ashe County, NC



Brief history of Ashe County, North Carolina

The New River is thought to be one of the oldest rivers in the world. This clean, clear river begins as two streams on the western side of the Blue Ridge Mountains in Watauga County. The North Fork and South Fork converge in Ashe County as the New River, which flows northward into Virginia.


An Inventory of the Significant Natural Areas of Ashe County, North Carolina.
The landscape of the county is a complex of mountains and valleys that are oriented in a variety of directions. The elevational range of the mountain peaks is from 2480 feet to 5160 feet, with an average of about 3000 feet.






*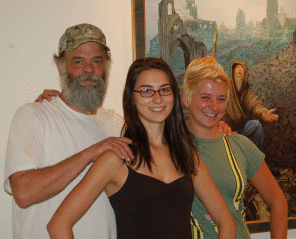 The Artists
Robert, Joanie, and Alyssa

Jefferson Landing hosted a special:
An Art Exhibit by Robert C. Ray
Interpolating the Album
Days of Future Passed by the Moody Blues.